Video is a powerful medium. Arguably, the most powerful and persuasive today. It may be that someday, something takes the place of video in our world. Perhaps it will be virtual reality or augmented reality technologies, but for every new thing that hits the market, nothing seems to capture people's attention and passion as much as online video. Video streaming  is what makes it possible to get all the video on all our devices we own. It has become such an essential part of the world's industry that the idea of streaming itself has started to extend to whole other domains during the last years, such as video gaming streaming. Streaming comes to wonderfully solve the issue of actually downloading (only) what needs to be played before our eyes.
OTT and IPTV, both, refer to delivering content to the end users, however, there is a stark difference in the mechanism used by both for content delivery. The biggest difference between OTT and IPTV is the network. While IPTV is delivered over a closed, proprietary network such as a LAN or WAN, OTT  on the other hand stands for "over-the-top" suggesting that content providers deliver their products over the top of existing internet services (over an open network). Video streaming can provide OTT television and film content for any kind of individual consumer because OTT systems can overcome the limitations of classic IPTV systems. As such, content is only delivered upon request. Such a method is called VoD (Video-on-Demand) or SVoD (Subscription Video-on-Demand). The second content delivery type within an OTT video delivery environment is called LIVE, mainly the live streaming of any kind of content or event. To say we just dabbled in CDN, IPTV, and OTT Streaming would be an insult to our team members.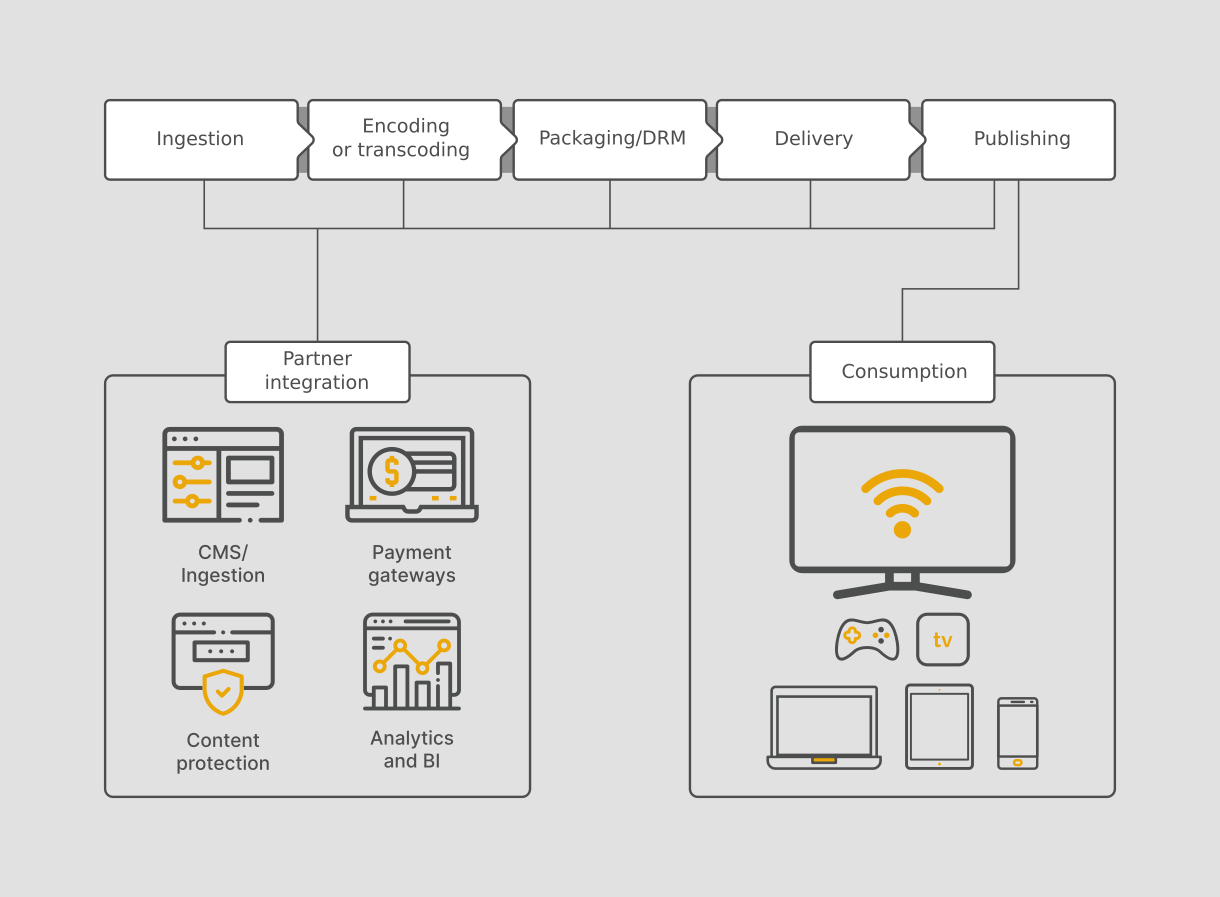 A simplified OTT architecture can be seen in the picture above (we are sorry .. we don't have time to go into deep features like Ultra Low Latency or Digital Ad Insertion .. there is a right time and place for that). Regardless of the content type, or integrations with 3rd party partners the classical OTT architecture is usually composed of 5 vital steps: Ingestion, Encoding (or transcoding), Packaging (with protection), Delivery and last but not least Publishing.
Ingestion involves both transferring large volumes of media assets between multiple sites, and a system that accepts and manages the import of digital content in various formats automatically or manually. Encoding and transcoding further analyze digital content upon uploads, in order to transcode it into more common video formats and bitrates and segment it in preparation for publishing on multi-screens and multi-platforms. Packaging is necessary to adapt the OTT content to different devices and the formats it accepts (HLS, DASH). The delivery is usually done encrypted via a DRM because security, and reliability are crucial in any video streaming department, regardless of the digital content type. The Delivery itself is very important, because with the proper architecture, here lies the ability to deliver a final good user experience. A flexible and tuned CDN (Content Delivery Network) is an essential part of the overall streaming process. Finally, Publishing involves leveraging all the gathered and streamed digital data in order to make smart decisions about where and how content delivery has the most impact on the end-user, the consumer.
Here are some other bits and pieces of the OTT chain we already have great experience with as well (and is worth mentioning) :  
Service Platforms (CMS) and integrating them with packagers & encoders
Various LIVE and VOD encoders
Players
DRM Key Servers and integrations
Storage and distributed storage
QoS
Billing integrations
Deployment (RPM, Ansible and Helm/K8S based)
---
Here is just part of a list of our past and current responsibilities. We'd be glad if you'd let our team of professionals help you make it on this list!
Maintained and improved the H264 & AAC codec in OTT Encoder
Implemented billing and authorization integrations between OTT platform and 3rd party
Implemented the Akamai CDN integration for OTT Packager
Implemented stress and monitoring tools for RTSP/RTP and HLS streaming
Implemented the server and module integration libraries for a Dynamic Licensing Server
Development on audio/video preprocessor modules used by live and offline transcoders
Implemented MPEG2 transport stream multiplexer and demultiplexer
Development on various audio/video packetizations modules for RTP/RTSP streaming
Implemented a custom Apple HLS streaming solution, including the support for AES encryption
Implemented and maintained Apache httpd mod for HLS/HDS/MSS download as part of OTT delivery
Maintained and improved an RTSP Streaming Server
Development on flash players for testing the Adobe HDS streaming (OSMF based players)
Implemented the PlayReady DRM solution used in Silverlight Smooth Streaming
Implemented support for Verimatrix, Irdeto, BuyDRM, Conax, InSys, Nagra, CastLabs, ViaAccess DRM in various OTT platforms